Are you the type who walks around with little to no cash in your wallet? Are you comfortable making small and big payments with just a touch of a button? Do you always feel 'malas' to go to the ATM to withdraw money?
If you answered yes to all three questions above, it's safe to say that you are not alone because millions of people across the globe share the same habit (including us).
Some of you might be wondering how on Earth do people like them survive and go about their day without money in their pockets.
Well, it's 2019 and people are moving forward by using e-wallets!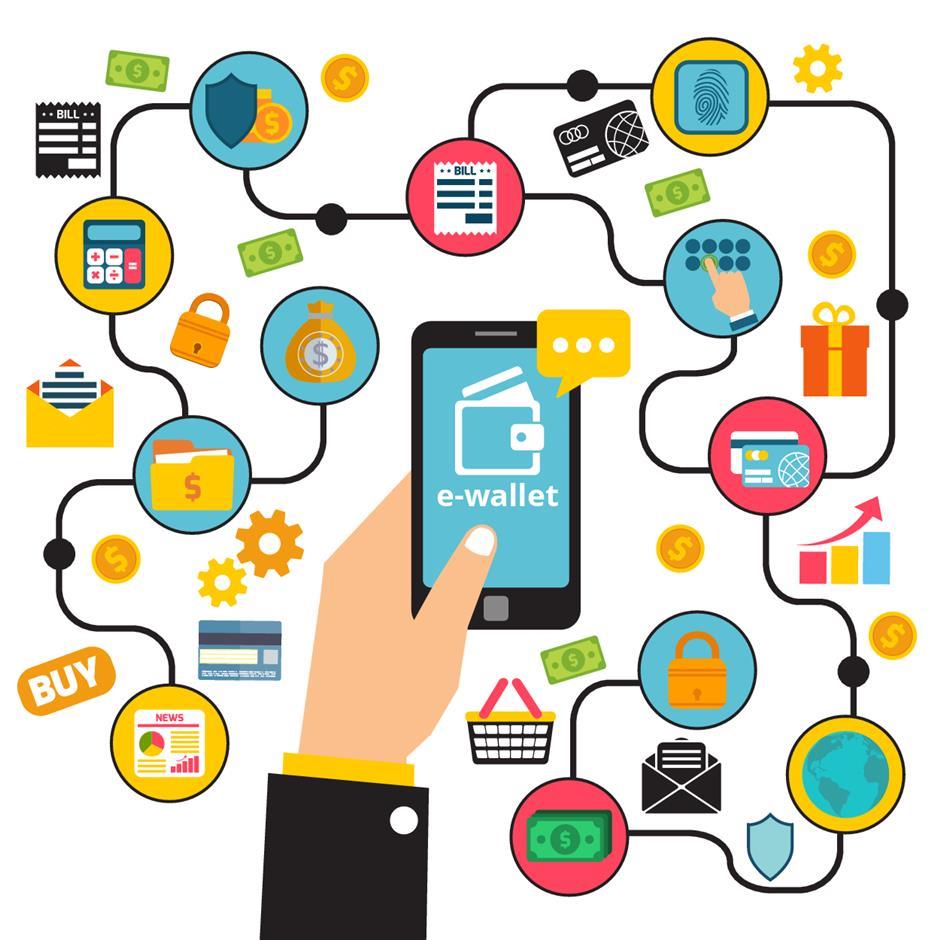 E-wallets basically function exactly like your wallet, but everything is digital and online.
You can shop, pay your bills, send and receive money – all with just an app. But in Malaysia, there's more than just one e-wallet app and after awhile, it can be very confusing.
So, to end all confusion, we break down the top four most popular e-wallet apps in Malaysia and let you know which one suits you the best.

#1 GrabPay
Grab is one of the most popular e-hailing apps not only in Malaysia, but in Southeast Asia as well. The Grab app also includes its very own e-wallet feature called GrabPay, which was introduced in our country in 2018.
GrabPay is very convenient because you can use it to pay for Grab's existing services like your car rides and GrabFood, as well as your purchases at various F&B merchants, cinemas, and many more.
One thing we love about GrabPay is that with each transaction, you'll earn points that you can eventually use to redeem a lot of cool things, including discount vouchers from the Grab Rewards catalogue. And often times, you'll also get additional discounts for car rides and everything else if you choose to pay for it using GrabPay.
We feel that GrabPay is actually a wholesome e-wallet app, especially if you frequently commute around using Grab.
Pros: Good if you always use Grab, Grab Food and enjoy collecting points to redeem vouchers.
Cons: No cashback, can't be used for certain services.

#2 Boost
Boost seems to be shooting up the popularity charts as of late, especially during the Ramadan season when even vendors at your local Ramadan Bazaar are accepting payments via the Boost e-wallet.
One thing that stands out for Boost is its cashback feature. Case in point: recently, our colleague actually received a whopping RM150 cashback just by purchasing a cup of coffee. Imagine buying a cup of coffee and getting 14 more cups back!
With Boost, you can do more than just pay for your meal and shopping sprees. You can actually use it to pay for your parking, your petrol, your groceries and even your pasar malam haul.
Pros: You can use it for almost everything, including paying your utility bills and get cashback every time.
Cons: No reward points system, limited places that accepts Boost at parking spaces and petrol pumps (only Shell accepts Boost for now).

#3 Touch 'n Go eWallet
Touch 'n Go is one of the brands that recently jumped onto the whole e-wallet trend. They've incorporated the wallet into their app and expended on services that are convenient for its users, especially if they commute using tolled highways on a daily basis.
The e-wallet allows you to link up to three Touch 'n Go cards and reload them anytime at your own convenience. So yay, no more guessing if you have enough balance in your Touch 'n Go card at the toll lanes!
On top of that, you'll also get 20 per cent rebate for all tolls across the Klang Valley.
But do take note that you can't use the e-wallet to topup your Touch 'n Go, you can only do so via online banking or using your debit/credit card. So your Touch 'n Go eWallet balance and your Touch 'n Go card balance will be different.
Apart from those features, the e-wallet is similar to other e-wallets in the market. You can also pay your bills, your shopping sprees, and buy movie tickets.
Pros: Convenient if you use Touch n' Go or RFID to pay toll. Some merchants offer discounts if paid using the Touch 'n Go e-wallet.
Cons: The card linked to the app can only be used at tolls; you can't use it for public transportation such as LRT or other services.

#4 FavePay
FavePay is probably the OG of e-wallets in Malaysia, as they've been around since 2017.
When they first started out, most merchants onboard offered exclusive discounts to customers paying via the app. And now, the system is integrated into the Fave app for users who enjoy using the e-commerce marketplace (previously known as Groupon).
Just like Boost, FavePay also offers cashbacks, but only up to 20 per cent for every transaction (30 per cent for first-time users).
You can use it to pay your purchases across various F&B outlets, fashion retail outlets, and other type of services.
The key to fully utilising this app is through loyalty, because their cashback system is only valid for the merchants you frequently paid for with the app. For example, if you frequently eat at one of FavePay's merchants, your cashback will only be valid for your next visit to the same restaurant/cafe/eatery.
Pros: Cashback and attractive merchant discounts.
Cons: No point rewards system, no additional discounts for Fave vouchers, and ironically, you can't pay for your Fave vouchers using their own e-wallet. Cashback offered is only valid at selected merchants you paid at, which means the cashback you receive cannot be used elsewhere.

VERDICT:
If you enjoy getting discounts, rebates, or cashbacks whenever you dine out or shop, GrabPay and Boost are the champs. But if you had to choose between the two, just ask yourself these questions: do you use Grab to commute frequently? Do you eat in a lot and resort to ordering from GrabFood? If you answered no, Boost is the preferred choice.
The Touch 'n Go e-wallet is very useful to reload or check your Touch n' Go card, which will help prevent you from becoming the reason for the long queue at the toll lane (read: insufficient balance). So regardless of any e-wallets you may prefer, the Touch 'n Go app appears to be a necessity for those living in the city, especially for those who drive to work every day.
Fave, on the other hand, is another e-wallet out there that offers similar functions and cashback, but with limited restrictions to its cashback system, this may seem as a major drawback for users.
So, which do you think suits you the most? Share your thoughts in the comments section below.
Kredit Gambar: Rojak Daily
Berita ini diambil daripada Rojak Daily dan ditulis oleh Iylia Adreena. Ada banyak lagi cerita menarik yang anda boleh ikuti di Rojak Daily.
Pandangan dan pendapat penulis adalah hasil karya asli penulis dan tidak mewakili serta tidak mencerminkan pandangan dan pendapat dari Gempak. Gempak tidak bertanggungjawab atas sebarang kesilapan atau kesalahan kandungan artikel ini.
Kepada anda yang berminat untuk menyumbang, hantarkan karya anda ke [email protected]