In recent years, Taiwan is seeing a rise in the number of tourists thanks to the country's well-known warm and welcoming hospitality.
The little island in the Far East packs a punch in the form of bustling night markets, scenic nature spots and an impressive city skyline that holds one of the world's tallest building, Taipei 101. 
According to a report by
The Straits Times
, Taiwan is also becoming a popular holiday destination for visitors of the Muslim faith.
With that, the local government has stepped up their game to provide a more pleasant and enjoyable stay for Muslim travellers, which includes building mosques in major cities and expanding the selection of Muslim-friendly or halal food in Taiwan.
 
Now, if you're considering a trip to Taiwan but feeling a bit apprehensive about where to find some of the best Muslim-friendly Taiwanese food, don't worry because we've got you covered!
 

Taiwan Beef Noodles
Ask any Taiwanese what their favourite local comfort food is and nine out of ten would say beef noodles. Whether on a cold rainy day or scorching hot weather, some tender noodles, stewed beef and flavourful broth is all you need to warm your heart. The dish is also garnished with scallions and cabbage for your vegetable fix. So head over to Chang's Beef Noodles Shop for some halal beef noodles! They also serve beef dumplings or xiao long bao here.
 
Address: No. 21, Yanping South Road, Zhongzheng District, Taipei City, Taiwan 100
Opening hours: 10am-7.15pm (every day)
Contact: +886 2 2331 2791
 

Soy Milk
Yong He Dou Jiang Da Wang (Yong He Soy Milk King) is one of the most popular breakfast places in Taiwan. The must-try dish here is soy milk served with you tiao, which Malaysians are also familiar with. But what makes it stand out as an essential Taiwanese breakfast is that people here would enjoy it almost like a bowl of porridge. The crispy and fluffy fried you tiao makes it a hearty meal to start your day.
 
Address: No. 102, Section 2, Fuxing South Road, Da'an District, Taipei City, Taiwan 106
Opening hours: 24 hours (Tuesday to Saturday); 12am-12pm (Sunday); 6am-12am (Monday)
Contact: +886 2 2703 5051
 

Seafood
When all else fails, seafood is your safest bet. As long as you're not allergic, who can say no to some fresh shellfish? Ningxia Night Market is where you will find stalls selling seafood at almost every corner because it is a popular night meal for the locals. You can choose from shrimps, to fish, to oysters, it is a haven for seafood lovers for sure. Just make your choice and the vendor can even grill it for you right away for an instant snack!
 
Address: Ningxia Road, Datong District, Taipei City, Taiwan 103
Opening hours: 5.30pm-12am (every day)
Contact: +886 987 456 794
 

Stinky Tofu
We know what you're thinking, in fact, we can almost see the look on your faces just by seeing the name of this snack. However, don't be fooled by the name because stinky tofu is a very popular street food in Taiwan and many will vouch for how yummy it is, once you get past the pungent smell, which some say smells like feet. Crispy on the outside, soft on the inside, this addictive snack is especially good when consumed hot. Get it at Shilin Night Market, a staple place to visit when in Taiwan.
 
Address: No. 101, Jihe Road, Shilin District, Taipei City, Taiwan 111
Opening hours: 4pm-12am (Monday to Friday); 3pm-1am (Saturday and Sunday)
Contact: +886 2 2881 5557
 

Iron Eggs
Iron egg is a specialty dish in Taiwan, a delicacy that originated from the Tamsui District. As you can see, the colour of the eggs are especially dark and almost black. To prepare, the eggs are repeatedly stewed in a mix of soy sauce and spices, then left to air-dry. This cooking process makes the eggs more chewy and flavourful compared to regular boiled eggs. You can find iron eggs in many stalls at Tamsui Old Street without worry as the ingredients used to prepare are certified halal.
 
Address: Zhongzheng Road, Tamsui District, New Taipei City, Taiwan 251
Opening hours: 11am-8pm (every day)
Contact: N/A
 

Oyster Omelette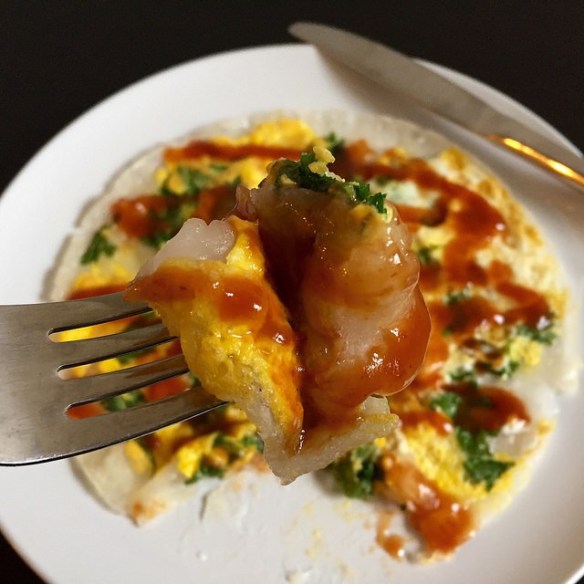 Malaysians are no strangers to oyster omelette, a basic snack that comprises of small oysters, potato starch and egg. But you probably didn't know that this is also a popular night market favourite in Taiwan. Now, Muslim travellers may do a double take before trying the ones that are sold at night markets because they often use pork lard. But for a certified halal oyster omelette dish, make a trip to Taipei 101 and head to Ding Xian 101 Gourmet Restaurant. This restaurant serves up to six different halal set meals. So do include this place for splendid food and an immaculate view!
 
Address: 110, Taiwan, Taipei City, Xinyi District, Section 5, Xinyi Road, No. 7 Taipei 101, 86th F
Operating hours: 11.30am-2.30pm; 5.30-9.30pm (every day)
Contact: +886 2 8101 8686
So if you're looking to go to Taiwan for your next holiday, there will be a travel platform offering a variety of exciting holiday packages around the world waiting for you.
Kredit Gambar: Rojak Daily
Berita ini diambil daripada Rojak Daily dan ditulis oleh Jessica Chua. Ada banyak lagi cerita menarik yang anda boleh ikuti di Rojak Daily.
Pandangan dan pendapat penulis adalah hasil karya asli penulis dan tidak mewakili serta tidak mencerminkan pandangan dan pendapat dari Gempak. Gempak tidak bertanggungjawab atas sebarang kesilapan atau kesalahan kandungan artikel ini.
Kepada anda yang berminat untuk menyumbang, hantarkan karya anda ke [email protected]